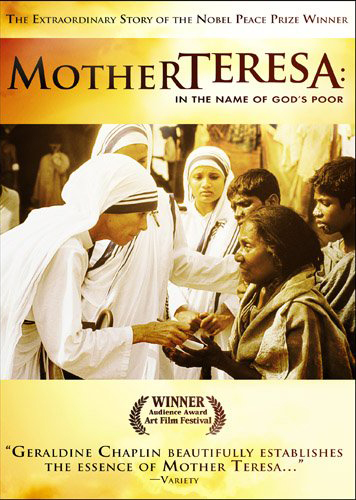 The inspirational portrayal of Mother Teresa, a simple nun who became one of the most significant personalities of the 20th Century. Armed with a faith that could move mountains, Mother Teresa followed her calling to help the poor, the lepers, the dying and the abandoned children in the slums of Calcutta, challenging many authorities along the way.
[expand title="…see more"]
Calcutta, 1946. Violence rages in India. Sister Teresa, a small white woman from Albania, teaches at the Loreto Convent. Sister Teresa is the first to take injured Indians into the convent and treat them.
Against the wishes of the Archbishop, Sister Teresa leaves the convent to live in the slums and care for the poor. At first the Indians are angry with the white Christian woman. She has to turn to Father Van Dick for help. He sets her up with the kind Juan Da Silva, a junk dealer, who gives her space in a warehouse.
Sister Teresa struggles. At first she can't even take care of herself: one day while cooking, she sets herself on fire. Also she remains mistrusted by the poor she wants to help. The breakthrough comes when the police want to stop the selling of junk in the city, and Sister Teresa stands up for the junk dealers' rights. The Police Commissioner hates her, but she wins the point and the junk dealers begin to support her.
Once again, against the advice of the Archbishop, Sister Teresa petitions Rome to begin a new order of sisters. To everyone's surprise, the wish is granted and The Missionaries of Charity is established.
Although Mother Teresa is making headway setting up a hospice in an abandoned India temple, she has many enemies. The Police Commissioner feels she "pushes him around," and radical youths think she is organizing a "Christ factory," taking weak souls away from their karma. A young reporter, Harry Harper, comes to write about the upcoming war between Indian and Pakistan and learns about Mother Teresa from Sergeant Stout, a British supporter.
Harper witnesses Mother Teresa's humanity and how strongly she stands up to violent students who riot against her. She cleans maggots out of human wounds and cares for lepers. In truth, Mother Teresa is not proselytizing. Her steadfast teaching of love for all finally wins over her enemies. Harper's moving news stories bring Mother Teresa's message to the world. She becomes an important example to many and wins the Nobel Prize for Peace in 1979.
Starring Geraldine Chaplin and David Byrd
[/expand]
This video is currently not available.
You may also be interested in another motion picture on the life of Mother Teresa. See this video here: Mother Teresa (2003)
Details
DVD Features: Digitally Mastered Interactive Menus, Chapter Selections