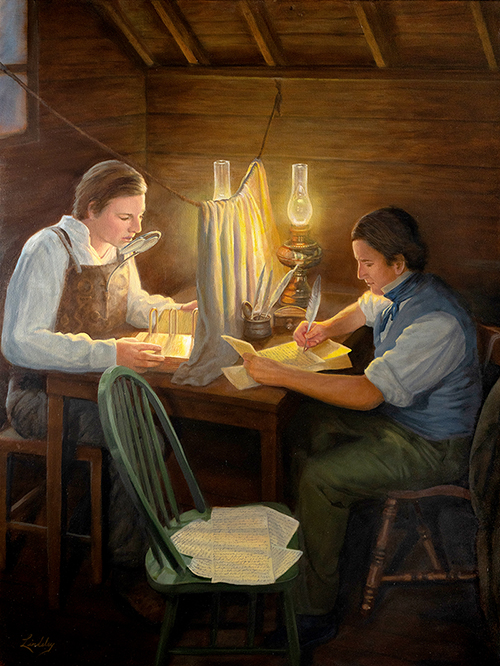 Artist David Lindsley has released a beautiful new painting of the translation of the Book of Mormon! The original was unveiled at the Spring 2022 Book of Mormon Evidence Conference as a tribute to James Stoddard and his trailblazing work in defending and restoring appreciation for the Urim & Thummim translation of the Book of Mormon.
Available now as 8×10 and 11×14 prints, or bundled with Seer Stone v. Urim & Thummim for a special discount!
In 2019, the Joseph Smith Foundation released Seer Stone v. Urim & Thummim: Book of Mormon Translation on Trial defending the historical authenticity of the traditional narrative with real sources and documented history.
For 190 years the Church of Jesus Christ of Latter-day Saints and its leaders put forth the overwhelmingly dominant position that Joseph Smith translated Nephite characters engraven on ancient plates from whence came the Book of Mormon. Faithful leaders and members have agreed that
the Nephites and Lamanites were actual peoples living on the American continent and
that their prophets produced physical, tangible records,
which were abridged by the prophet-historian, Mormon, who engraved characters upon metal plates "hav[ing] the appearance of gold."
The characters engraven on the plates represented the written language of the ancient Nephites (reformed Egyptian).
These characters were translated into the English language by the Prophet Joseph, who used the Nephite interpreters, called the Urim and Thummim.
Since before the publication of the Book of Mormon, there have always been detractors and those antagonistic toward the Prophet Joseph Smith who have promoted a different narrative. More recently, progressive Latter-day Saint scholars have promoted the idea:
that the Nephite plates were rarely, if ever, used during the translation process,
that Joseph Smith acted as the "village seer" and engaged in magic, treasure digging, and other occultic practices,
and that he did not use, or rarely used, the Urim and Thummim (or Nephite interpreters) preferring instead the use of an occultic seer stone.
Seer Stone v. Urim and Thummim placed the Book of Mormon translation on trial, presenting the latest research in one of the most comprehensive treatments of the translation process to date providing encouragement for Latter-day Saints who fear they have been "betrayed" by the translation history taught by the Church for over 190 years.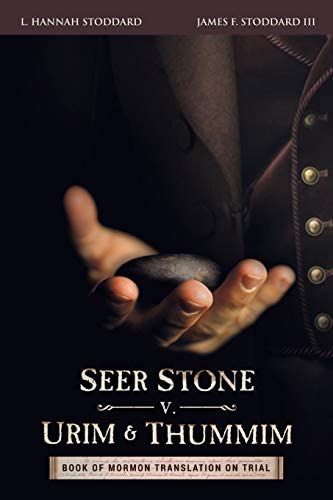 We have received many emails from members sharing that this book strengthened their faith and testimony in the Restoration of the Gospel!
David Lindsley's new painting, "By the Gift and Power of God" is a beautiful depiction celebrating Joseph Smith and Oliver Cowdery's description of the translation process.
Available now as 8×10 and 11×14 prints, or bundled with Seer Stone v. Urim & Thummim for a special discount!