"Stupid in America" is a nasty title for a program about public education, but some nasty things are going on in America's public schools and it's about time we face up to it.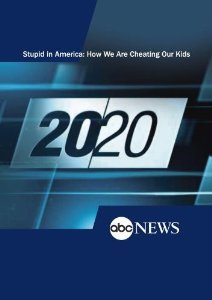 Kids at New York's Abraham Lincoln High School told me their teachers are so dull students fall asleep in class. One student said, "You see kids all the time walking in the school smoking weed, you know. It's a normal thing here."
We tried to bring "20/20" cameras into New York City schools to see for ourselves and show you what's going on in the schools, but officials wouldn't allow it.
Washington, D.C., officials steered us to the best classrooms in their district.
We wanted to tape typical classrooms but were turned down in state after state.
Finally, school officials in Washington, D.C., allowed "20/20" to give cameras to a few students who were handpicked at two schools they'd handpicked. One was Woodrow Wilson High. Newsweek says it's one of the best schools in America. Yet what the students taped didn't inspire confidence.
(Description by John Stossel on ABC News, http://abcnews.go.com/2020/Stossel/story?id=1500338)