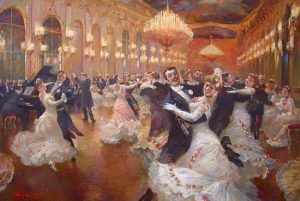 Definition of "round dancing" – "Modern social round dancing is choreographed and cued ballroom dancing that progresses in a circular pattern, counter-clockwise around the dance floor. The two major categories of ballroom rhythm found in round dancing are the smooth or international rhythms, such as foxtrot and waltz, and the Latin rhythms, such as cha-cha and rhumba. It is not to be confused with circle dancing, which is a type of folk dance where dancers are connected in a circular chain." (Wikipedia)
Jesse N. Smith (Cousin of the Prophet Joseph Smith)
The following are journal entries from the journal of Jesse N. Smith, the first cousin to the Prophet Joseph Smith.
Nov 27. (Sun.) 1881 – At Snowflake I gave an account of my recent journey, also of the public teachings of Pres. Taylor and party that I heard in Parowan. Spoke upon the evils of dancing. Some did not realize that it was not a part of our religion, while rest and recreation are necessary; believed that as a Church we had lost more than we had gained by dancing, especially as the round dance been termed "the dance of death." Notwithstanding the partial permit of Pres. Taylor I felt to use my influence against round dancing in this stake of Zion.
Dec. 14. 1881 – We held meeting there in the evening. I counseled the brethren to fully satisfy the Indians for their land claims when they returned in the spring and also to help them cultivate their patches, and treat them kindly and deal honestly with them. Referred to the 49th chapter of Genesis. Asked the people to use their influence against round dancing and against excessive dancing. Also warned them against covetousness.
Dec. 18 (Sun.) 1881 – At a meeting in Snowflake I spoke on the subject of dancing. Reprehended the practice of swinging around in a wanton manner and more times than the figure or the music required. Musicious in the Church who played for round dancing were accessory thereto. Recommended parties to attend dancing schools and learn how to deport themselves properly.
Mar. 8. (Sat.) 1884 – I said it seems a strange thing to our Mexican friends, traditionated as they are in the Roman Catholic religion, when they see us dance in the same building in which we partake of the sacrament. This has been permitted in our poverty, but I feel that it is improper. They would not thus profane their sacred places, and I feel that in some things we can be taught by this degraded people.
Jan. 1 1888 (Sun.) – Attended meeting. Dined at Bro. Arnold's; supped at Bro. Stradlings. Called on Judge Morrison and Recorder Nelson. Attended meeting of the High Council. The subject of round dances was discussed. John Henry Smith expressed himself as unqualifiedly opposed to them, styling them the motive power of lust.
Dec. 25 (Thurs) 1890 – Attended a celebration of the day in the Stake House. The young people desired to dance in the Stake House and Bishop Hunt of Snowflake favored it. With Bro. Hatch I wrote to the First Presidency on the subject. They reply came by due course of mail from Presidents Woodruff and Joseph F. Smith that they were now and always had been opposed to dancing in houses of worship.
Nov. 27 1891 – A petition to the High Council favoring the round dance was circulated. This was met by a counter petition remonstrating against the round dance, so the High council made no change.
President Joseph F. Smith (son of Hyrum Smith, nephew of the Prophet Joseph Smith)
False Doctrines of the World (Millennial Star 56:420-21, 1894)
I am going to preach another little discourse in regard to round dancing. I have been out in the country lately, visiting the conferences, and at one place I understood that the President of the Stake had finally concluded that the Presidency of the Church had let up with regard to their objection to round dancing, and he had actually gone and danced in that way himself. Wherever I have been, the Presidents of Stakes have enquired of me as to what is the wish of the Presidency of the Church with regard to this practice of round dancing; for they say that in the parties in Salt Lake City and those held in the theater, round dancing is all the rage, and "is it possible for us to prevent this practice here when it prevails so much at headquarters?" The question is, have the Presidency of the Church let up on this matter, and do they counsel the people now to round-dance all they please?
Now, I do not suppose that any more evil would grow out of two innocent persons dancing a waltz (if innocent persons do such a thing), than would out of the playing of a game of cards. Two or three persons might sit down and play a game of cards and no evil come out of it, for that once; but if they indulged in it until they became infatuated with it, then it results in harm and may lead to destruction. So in relation to round-dancing; people become infatuated with it.
It is a practice, to say the least of it, out of which nothing can possibly come calculated to ameliorate the condition of mankind or to elevate the moral standard of men and women. Therefore, the Latter-day Saints ought [p.62] not to tread where no good can be found. We ought not to cross the line from our own ground on to that of the adversary; for when we do we place ourselves in his power and he will take advantage of us if he can.
I think I may safely say here, speaking as I do in the presence of the authorities of the Church, that the First Presidency do not encourage, do not endorse, and do not recommend round-dancing. On the contrary, they deprecate it. They are sorry that some of our young people desire it and will indulge in it in spite of counsel; and we hope and pray that the day will come when they will pay stricter attention to the counsels of men who have experience, and whose only desire is the welfare of the youth of Zion.
We do not give you counsel with a view of curtailing your legitimate enjoyment. We would rather increase your enjoyment in every proper way. But this is not something that will add to your enjoyment ultimately, because the tendency of it is toward passion, lust, and immorality. Some may call me an old fogy for making this declaration; but I have been young myself, and have passed through the stages of youth, as many are passing through them today. I have had an experience perhaps that some of my younger friends have not; and I say, without fear of successful contradiction, that round-dancing is an evil, because, if for nothing else, there is no good in it. Further than that, it is wrong because evil may come out of it, and often very great evil, too.
As a result of this familiar contact of men and women in the dance, their native modesty, and that respectful regard for each other, and proper decorum which should exist between men and women, are broken down. They become familiar with each other's touch and feelings in such a way as to lead on to greater evil. Therefore, I say it is an evil in Zion. And I think I can say, as speaking the minds of the Presidency of the Church on this subject, that we deprecate it, and wish that it did not exist among us, and we would like you to curtail it as much as you can and if possible stop it.
We do not want you to be unwise in this matter. A skillful horse trainer who has a fractious horse does not draw the reins tight all at once, but he pulls up gently, guiding and directing and, so far as possible, steering clear of the obstructions in the road, until in time he is successful in quieting his fractious animal and getting it under control. Deal gently with the youth. Act cautiously and warily with them, and kindly withal; for it is our love for them that causes us to speak in this way. We want to save and exalt the youth of Zion, and bring them back into the presence of God. Therefore we talk this way. We say to the Presidents of Stakes, to the High Councils, to the Bishops, to the presidents of Seventies and the Seventies, to the High Priests, and to the Elders in Israel, set an example in these matters that I have referred to, and wield an influence where you labor that will be felt for good. It is necessary that this should be done.