Returning Home for Thanksgiving
Written by: Malissa Cochran

Every Thanksgiving, we take time to celebrate the Pilgrims, the Puritans, and other righteous Founders of America. God fulfilled His promise to bring the lost tribes of Israel back to their homeland. We are their descendants—we are Israelites. The covenants they kept and lived, and the blessings that were promised them upon righteousness are ours as well. It is our charge to live in holiness on the covenant land, and to take the Gospel to every nation.
The Pilgrims' story is a story of 'average' families and individuals who changed the world because they shared a multi-generational vision. Just over fifty Pilgrims survived that first winter; but from them came more than thirty million descendants, and a nation conceived in liberty and dedicated to the proposition that all men are created equal and endowed by their Creator with certain inalienable rights. More importantly, their vision was one of holy, Christ-centered, multi-generational faithfulness. Each year, we gather in love and unity to better honor a covenant land, to remember a covenant people and their noble sacrifice, and to faithfully rededicate our lives to their vision…
Because their vision is our vision.
How did you celebrate Thanksgiving?
This year we wanted to share how other families were able to set apart their Thanksgiving holiday in an effort to remember and return to the covenant—upheld not only by the Separatist Pilgrims but all pilgrims who in one aspect or another paved the way in their yearning and pursuit of higher standards.

Julie Smith, from central Utah, is a Home Educator of 27 years, Mother of 5, and Grandmother to 6. Together, her family-owned and operated the Lehi, Utah Glenn J. Kimber Academy for 10 years. She continues to find ways to educate her now-grown family and is passionate about passing down the faith to her grandchildren. She writes:
The first thing we did as a family to prepare for this day was to issue a movie challenge. Family members were given a choice of 10 movies to watch that would help us understand history, the Israelite bloodline, and what it means to pass the faith on to the next generation. I loved how it added to the dinner conversation, how everyone contributed; and as we shared how these movies and stories had influenced us, I could not help but see how important it is to remember our heritage and to bring their lives to our feasts and traditions whenever we can.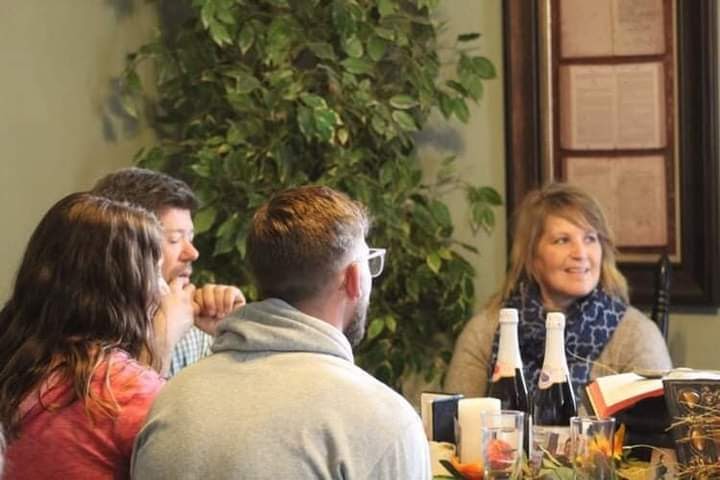 Julie is well-known for employing the tradition of teaching at the family table, and with her whole family gathered this year, it was the perfect time to incorporate some of those doctrines.
This year to bring in the theme of ancestry, covenant-keeping, and continued faith, I chose to decorate the table with old family Bibles. One, in particular, is almost two hundred years old, handed down from generations before; another is an old German family bible from my side of the family. Also added was my grandmother's bible.
John Howland, who had come over on the Mayflower, is my 11th great grandfather. I included within the centerpiece an old replica of a spoon that had made the voyage as well. My older sons gave 'hayrides' to the younger children—a sort of reenactment of our ancestors coming across to America.
Natalie, also from the Smith family, is 19 years old, and her strong inclination for family history contributed to their Thanksgiving planning. She chose to focus on family ancestry through the menu.
Our family is from Hollenstead Denmark and immigrated here to America in the 1800s. We decided to use this year's Thanksgiving to bring in that Scandinavian heritage through the meal, which included twice-baked potatoes, Danish buns, red cabbage, pickled cucumber salad, Danish stuffing, and turkey meatballs (Frikadeller).
Did I mention, Natalie also loves to cook?! In search of new recipes? You can always depend on her. Natalie continues:
The Smith family (then the Schmidt family) was asked, among others, to settle a lot of the central Utah area which was unknown to me before I moved here. Now having been able to walk where they literally walked, this year cooking the foods they would have cooked helped me feel an even closer connection to those who came before me, and was a good reminder that because they did hard things, I can too.

Others incorporated family heritage and a bit of history into their discussions:
Meet Tyler Croall: Husband and an actively-involved homeschool father of four children, currently residing in Washington state.
We spent two weeks learning together. One thing I learned and shared with our gathered family was that symbols help preserve history. The lion and unicorn found in the heraldry and coats of arms in the UK represent the tribe of Judah and Israel respectively. My family's coat of arms from Scotland has three unicorns on it. The throne room in Buckingham palace has both the Star of David and the symbol of the breastplate of the high priest everywhere.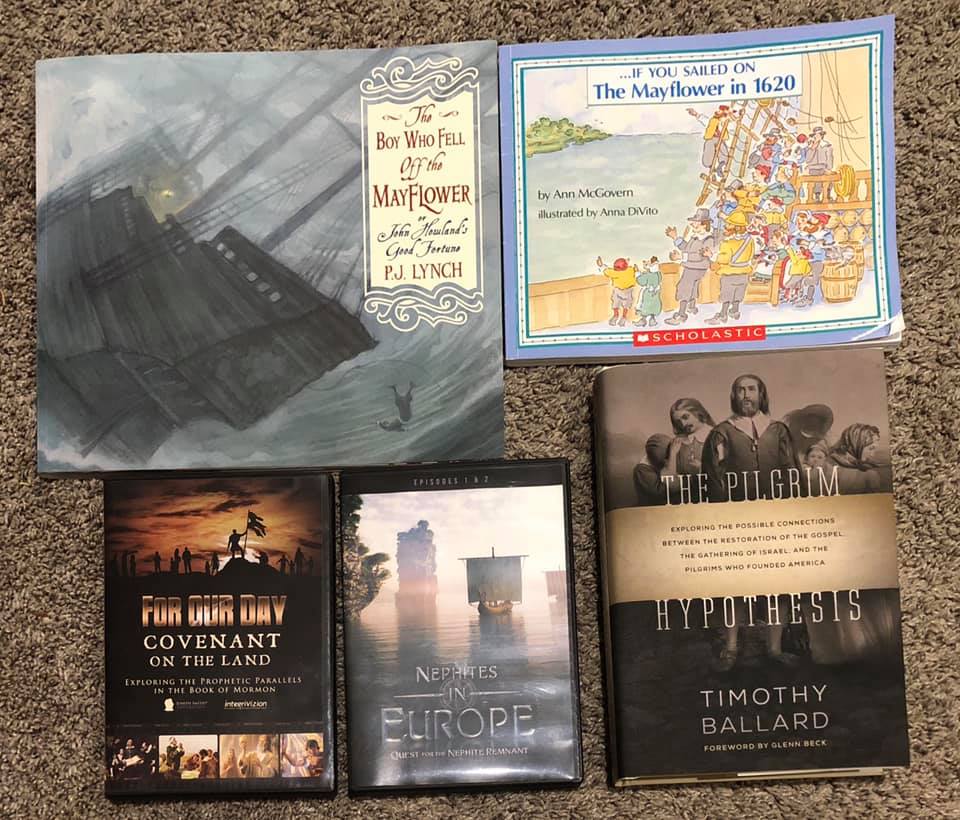 It was obvious that the people there were Israelites. Later, the Pilgrims—calling themselves new Israelites—and others, came over to the new world and wanted to preserve history, so they used symbols. The U.S. seal has a Star of David and other Hebrew symbols, for example. Some Pilgrims even wanted Hebrew to be the national language.
The Croall family does a remarkable job in sharing the everyday joy that comes from knowing they are of the Israelite bloodline. While striving to live higher standards, they are truly inspiring with how much they're out sharing with others—the excitement from this cute family is quite contagious.
As we went to visit family, we shared what we learned. I also shared with my institute class some of what I had been learning. It's all about the connections; they make everything about the gospel more exciting!
Hannah Stoddard of Utah County: author, speaker, and film producer, took on Thanksgiving with her 6 younger siblings and their father. They decided on a two-day celebration. Kicking it off with a formal dinner, she writes:
One attribute of Israel (and this can be seen vividly in Europe—especially England) is a love for refinement, dignity, cleanliness, and order. England has always been famous for this. We often picture the Pilgrims as backwoods farmers, but many of them came from the nobility—the gentry of England. Etiquette and deportment were important to them! We did some study on etiquette using a book called Social Graces, and all did our best to exemplify this Israelite trait during our Thanksgiving meal.
Aside from proper etiquette, a large focus for the Stoddard family was making healthy alternatives to traditional Thanksgiving foods for their dinner.
Fantastic vegetarian stuffing, sugar-free cranberry sauce, a healthy pumpkin pie, mashed potatoes, cooked vegetables, and even a vegetarian gravy (which didn't taste exactly like gravy, but it was good)! All of the kids helped from the 6-year old to the 9-year-old to the 13 and 15-year-old! We all commented about how wonderful it was to feel healthy, strong, and invigorated after Thanksgiving—instead of bloated, sick, and tired.
Included in their festivities, the Stoddard crew decorated their home, put together some skits—complete with a few costumes—and sat down to create a storybook (email for a copy) in which they recorded the true message of Thanksgiving and why this holiday celebrates the fulfillment of God's promise to gather the lost tribes of Israel.
Hannah writes:
We found free coloring pages online to supplement the text we wrote which covers the American covenant, the scattering of Israel into the lands of the North, the lost ten tribes, the Pilgrim story, the Reformation, the Nephite bloodline to the Pilgrims, the Puritan founding of America—and ultimately—why it matters today. It is 40+ pages. This activity helped all of us connect the dots of history and recognize how Thanksgiving is a wonderful time of year to turn our hearts back to our fathers and recommit to our responsibility as Latter-day Israel.
Impressive, right? The Stoddard family has written a number of other books and have helped thousands more come to understand true history in the words they so eloquently share. Visit their store
To end their weekend, just as the Israelites themselves in the Old Testament, they sang songs of praise and thanksgiving.
We all gathered around the campfire to sing hymns. It was a wonderful way to finish off a fantastic week! A few original hymns from the Pilgrim psalter were compiled as well. Did you know quite a few of these date to the Pilgrim & Reformation time periods?
Hannah concluded:
I was impressed that these hymns have a common thread: praising God and drawing all attention and glory to Him—not to man. Our forefathers would have sung these hymns. Singing together is one of our family's favorite ways to bring in the Spirit and teach. We're excited to continue this Thanksgiving tradition!
Israel and Rachel Barlow led us to West Point, Utah, where they own a 17-acre farm and are parents to 13 children:
Being an Israelite in our family has a blessed and meaningful relationship associated with Thanksgiving. My husband's first name is Israel. He was named after his Great-Great Grandpa Israel Barlow. His grandfather was a bodyguard to the Prophet Joseph Smith and came over with the Saints to settle these great Salt Lake Valleys in 1847. Like his great grandfather, my husband likes to grow things.
It is our family goal every year to make as much of our Thanksgiving dinner from scratch or things off of our place. This year we achieved homemade apple cider from the apples off our trees, homegrown potatoes, fresh rolls out of a sourdough starter, green beans, corn, and fresh homemade stuffing. All of our pies were homemade, and the apple pie had a special meaning because it was made from the trees from our orchard.
The Barlows were able to experience the fruits of their labors this year through their Thanksgiving, just as the Pilgrims did! What a neat opportunity to remember their ancestors whose name they bear. Rachel and her husband Israel also found a neat way for their family to recommit to new goals in the year to come.
We always have a meaningful time taking turns giving a toast and telling each other how thankful we are for a year of a good harvest. We always make new goals for the next year. Our new goal is to have everything for Thanksgiving next year completely homegrown! There's always growing and learning, and thanksgiving for the future and the past. God Bless!
And so we come to the first Thanksgiving in the autumn of 1621. They had made it across the Atlantic, they had survived the first winter in which half their number died, and they had endured the loss of their governor during the first spring. They were a people that had seen much and endured much more, and yet had everything to be thankful for. God was with them in the new land. He would not leave nor forsake them. Their sacrifice was "for the glory of God, and the advancement of the Christian faith." Their purpose was not to "plant the seed of popular government;" nor was their purpose to create a context for religious freedom. The purpose was for the colony—and America more broadly—to be an outright Christian society, submitted in all of its aspects to the holiness of Christ. Governor William Bradford so beautifully described:
Last and not least, they cherished a great hope and inward zeal of laying good foundations, or at least making some ways toward it, for the propagation and advance of the gospel of the kingdom of Christ in the remote parts of the world…1
In this season of thanksgiving, let us offer to the Lord the gratitude and thanks He deserves from us. But let's also allow our thanks to drawing us near to the heart of God. May our thanks lead us into praise. May it lead us to return home to our Israelite covenants, and remember:
Out of small beginnings greater things have been produced by His hand that made all things of nothing, and gives being to all things that are; and, as one small candle may light a thousand, so the light here kindled hath shone unto many, yea in some sort to our whole nation; let the glorious name of Jehovah have all the praise. 2
Why celebrate Thanksgiving?
Thanksgiving has been a day set apart for our loved ones to gather around the table and feast, followed by scripture recitations, song, more feasting, family story-telling, and the most delicious part—pie. But more than anything, Thanksgiving has become a time when we focus as a family on gratitude. It is a time to humble ourselves before God and give an account of the genius and blessings of Him in our lives, and share—through the story of the Mayflower Pilgrims and other reformers—the providence of God in the lifeblood of this nation. From their beginning as a pocket of faithful friends and dedicated Christians meeting in England, to their impactful leadership at Plymouth Plantation, these unwavering Separatists left behind one of the greatest legacies in history. Not many individuals realize that although the Pilgrims left England because of religious persecution, they actually left Holland to protect their children from ungodly influences. These parents risked everything to safeguard their current and future posterity and to have the ability to infuse them with the godly virtues they held so dear. In risking the lives of their children as well as their own, it is clear that they valued the spiritual safety of their children over their physical safety. William Bradford boldly proclaimed:
These families were willing to sacrifice their lives, if necessary, even though they be but stepping stones for future generations of Christians they would never meet. 3
There at Plymouth Plantation, the Pilgrims held a feast that allowed them to go before God in gratitude for the preservation of their lives, and for His aid in the establishment of the Pilgrims' newfound home. This simple feast has evolved into what we celebrate now as Thanksgiving.
It is interesting to note that there were many other literal blood Israelites who, inspired by God, faithfully left Europe to make the arduous journey to America. God was waking them up and calling them home! In the space of only 20 years, at least 20,000 English men, women, and children set out to cross the Atlantic ocean and settle in New England. Historians have called this the 'Great Migration.' What was the reasoning behind all of these steadfast men and women traveling to America? The puzzle can be solved by realizing that most of these families were Israelites who had once been scattered and lost—but were now returning home.
Today, the world is in turmoil. Families are falling apart, crime is increasing, and many are discouraged and at a loss for how to end the suffering. Our ancestors were blessed by God because they so ardently kept His commandments. We can find our own answers by looking back to our righteous foundations.
Footnotes
William Bradford, Of Plymouth Plantation, Quoted in William J. Federer, America's God and Country Encyclopedia of Quotations, p. 67
William Bradford, Of Plymouth Plantation, Quoted in William J. Federer, America's God and Country Encyclopedia of Quotations, p. 67
"William Bradford, Of Plymouth Plantation, Quoted in William J. Federer, America's God and Country Encyclopedia of Quotations, p. 67
.