Patty Bartlett was a plural wife of the Prophet Joseph Smith.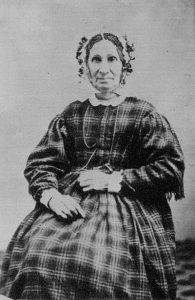 Return to Plural Wives of Joseph Smith
Born: February 4, 1795, Bethel, Maine
Died: December 14, 1892
Married (David Sessions): June 28th, 1812
Sealed (Joseph Smith): March 9, 1842
Married (John Parry, for time): 1851
Full Name: Patty Bartlett (Sessions) Smith
Life Sketch: Deseret Weekly, December 31, 1892
The following sketch of the life of Sister Patty Sessions whose death was chronicled in these columns a few days ago has been furnished the NEWS for publication:
Our aged and veteran sister, Patty Sessions, departed this life on Wednesday, December 14th, 1892, at 6:30 a.m., of old age, being 97 years and 10 months old. She was born in Bethel Oxford country, Maine, February 4th, 1795. Was married to David Sessions in 1812, and settled with him in Newrey, then a forest in Maine. She assisted her husband in clearing and making an extensive farm. She was the mother of eight children, siz of whom survived. In her youth she was a respected member of the Methodist Church. In the summer of 1834, she cast her lot with the Church of Jesus Christ of Latter-day Saints, meeting with great opposition. in 1836 herself and husband sold their property and started for Missouri, a journey of 20000 miles, with horse teams, and camping by the way. They arrived at Far West, Missouri, November 28th, 1836, and purchased a farm for $1200; they made many improvements, and in 1838 the mob drove them from all they possessed. Their abandoned property consisted of a farm, 400 bushels of corn, a good many livestock, home and other property, for which they never received a cent, and this in the depth of winter. She arrived on the Mississippi river with about 200 of the Saints; stayed there fourteen days, with nothing to eat but parched corn; the ice running, so that the river was impassable for some time; reached Quincy, Illinois, where the Prophet Joseph Smith overtook them, coming from Liberty jail. Thence they travelled to nauvoo, 350 miles. There they made a comfortable home, and assisted in building the Temple, and she was a faithful member of the Relief society. In February, 1846, she was obliged to leave Nauvoo, coming west with President Brigham Young and a large company of Saints. Sister Sessions, like many others, left all her earthly possession and sought a home in the Western wilds. The following May she started for the great American desert in her son, P.G. Sessions' company.
Sister Sessions drove her own team 1030 miles, arriving in Salt Lake valley Sept. 26th, 1847. Here again, in connection with her husband, she built up a comforatble home, and raised the first fruit in Salt lake City. She was a member of the Sixteenth ward for twenty-four years. She sold her city property to the railroad company and removed to Bountiful in 1872, where she erected a fine brick house, also a school house, known as the "Patty Sessions Academy," and furnished all hte mans necessary for its maintenance since 1885, for her own prosperity and the children of the poor. She has assisted liberally in the building of temples, done much to send the Gospel to the nations of the earth, and gather the poor, has been a strict observer of the Word of Wisdom, not having drunk tea or cofee for over forty years.
She lived to see her fourth generation and has left two sons, thirty-three grandchildren, one hundred and thirty-seven great grandchildren, and twenty-two great great grandchildren. TOtal posteirty, 214. She was ever a true and faithful Latter-day Saint, dilligent and persevereing, her whole soul, and all she possessed being devoted to the Church and the welfare of mankind. She has gone to her grave ripe in years, loved and respected by all who knew her.1
Diary Entries
Patty Bartlett daughter of Enoch and Anne Bartlett was born February 4 1795 \Bethel Mane/ and was married to David Session June 28th 1812 who was the son of David and Rachel Sessions, he was born April the 4th 1790 Veshire Vermont I was Batpised into the church of Jesus Christ \of later day saints/ July 2 1834 Mr Sessions was Baptised Aug <st> 1735 we received our we received our endowment Dec 16 1845 in Nauvoo. . . .
I was sealed to Joseph Smith by Willard Richards March 9 1842 in Newel K Whitneys chamber Nauvoo for Eternity and I and if I do not live to attend to it myself when there is a place prepared I want some one to attend to it for me according to order Sylvia \my daughter/ was present when I was sealed to Joseph Smith.I was after Mr. Sessions death sealed to John Parry senior for time on the 27 of March 1852 G[reat] S[alt] L. City.
I was sealed to Joseph F. Smith for time and all eternity. . . . He Joseph F. Smith acting for and in behalf of his Uncle Joseph. Smith.The Prophet.Who was Martyred June 27th, 1844. in Carthage Jail with his Bro Hyram.Joseph Fs Father. [signed] Patty Sessions 2
Affidavit
"I was sealed to Joseph Smith by Willard Richards March 9 1842 in Newel K Whitneys chamber Nauvoo, for time and all Eternity… Sylvia my daughter was present when I was sealed to Joseph Smith." 3
Donna Toland Smart, ed., Mormon Midwife: The 1846–1888 Diaries of Patty Bartlett Sessions (Logan: Utah State University, 1997), 276–77.