Marinda Nancy Johnson was a plural wife of the Prophet Joseph Smith.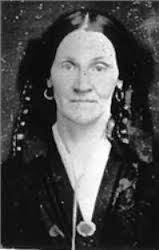 Return to
Plural Wives of Joseph Smith
Born: February 4, 1795, Bethel, Maine
Died: December 14, 1892
Sealed (Joseph Smith): March 9, 1842
Married (Orson Hyde): 1834
Full Name: Marinda Nancy Johnson Hyde Smith
Marinda Nancy Johnson (Hyde), 1877
To read more, visit the 
Autobiography of Marinda Nancy Johnson Hyde
on the
Joseph Smith Forum Reference
! I feel like bearing my testimony that during the whole year that Joseph was an inmate of my father's house I never saw aught in his daily life or conversation to make me doubt his divine mission.
1
Joseph Smith Journal
"Apr [18]42 Marinda Johnson to Joseph Smith."
2
Entry in the handwriting of Thomas Bullock:
"Apri 42 marinda Johnson to Joseph Smith."
Papers of Joseph Smith, Vol. 2
Verily thus saith the Lord unto you my servant Joseph, that inasmuch as you have called upon me to know my will concerning my handmaid Nancy Marinda Hyde–behold it is my will that she should have a better place prepared for her, than that in which she now lives, in order that her life may be spared unto her; therefore go and say unto my servant, Ebenezer Robinson, and to my handmaid his wife–Let them open their doors and take her and her children into their house and take care of them faithfully and kindly unto my servant Orson Hyde returns from his mission, or until some other provision can be made for her welfare and safety. Let them to these things and spare not, and I the Lord will bless them and heal them if they do it not grudgingly, saith the Lord God; and she shall be a blessing unto them; and let my handmaid Nancy Marinda Hyde hearken to the counsel of my servant Joseph in all things whatsoever he shall teach unto her, and it shall be a blessing upon her and upon her children after her, unto her justification, saith the Lord.
3
Affidavit
that on the [blank] day of May A.D. 1843, at the City of Nauvoo, County of Hancock, State of Illinois, She was married or Sealed to Joseph Smith, President of the Church of Jesus Christ of Latter Day Saints, by Brigham Young, President of the Quorum of the Twelve Apostles, of Said Church, according to the laws of the same, regulating Marriage; in the presence of Eliza Maria Partridge Lyman, and Emily Dow Partridge Young.4