G. A. Henty (8 December 1832 – 16 November 1902) was a historical fiction author and a special correspondant.
Historical Fiction Novels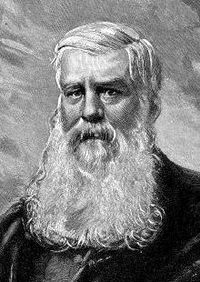 "Henty's boys' stories always revolved around a boy or young man in adventurous and even dangerous times. Henty's stories took place in times as far ranging as ancient Egypt all the way to the "modern" wars, such as the Boxer Rebellion. Henty's heroes are all courageous, honest, and resourceful (with an extra amount of 'pluck') but are also modest young men who don't boast about their advancements.These virtues have made Henty's novels popular today among many young men around the world who would wish to glean something from the boys of Henty's books."1
Inspired Statements
"To be a true hero you must be a true Christian. To sum up then, heroism is largely based on two qualities- truthfulness and unselfishness, a readiness to put one's own pleasures aside for that of others, to be courteous to all, kind to those younger than yourself, helpful to your parents, even if helpfulness demands some slight sacrifice of your own pleasure. . .you must remember that these two qualities are the signs of Christian heroism."
"Among the Huguenots he [main character in St. Bartholowmew's Eve] learned to be gentle and courteous; to bear himself among his elders respectfully, but without fear or shyness; to consider that, while all things were of minor consequence in comparison to the right to worship God in freedom and purity, yet that a man should be fearless of death, ready to defend his rights, but with moderation and without pushing them to the injury of others; that he should be grave and decorous of speech, and yet of a gay and cheerful spirit." 2
"You are all soldiers of Christ," he said, "and now is an opportunity given to you to show that you are worthy soldiers. When the troops of a worldly monarch go into battle they do so with head erect, with proud and resolute bearing, with flashing eye, and with high courage, determined to bear aloft his banner and to crown it with victory, even though it cost them their lives. Such is the mien that soldiers of Christ should bear in the mortal strife now raging round us. Let them show the same fearlessness of death, the same high courage, the same unlimited confidence in their Leader. What matter if they die in His service? He has told them what their work should be. He has bidden them visit the sick and comfort the sorrowing. What if there be danger in the work? Did He shrink from the Cross which was to end His work of love, and is it for His followers to do so? 'Though you go down into the pit,' He has said, 'I am there also'; and with His companionship one must be craven indeed to tremble. This is a noble opportunity for holding high the banner of Christ. There is work to be done for all, and as the work is done, men should see by the calm courage, the cheerfulness, and the patience of those that do it, that they know that they are doing His work, and that they are content to leave the issue, whatever it be, in His hands." -Mr. Wallace, from G.A. Henty's When London Burned.
List of works by G. A. Henty
Title
Date
Read online
Free audio
By Pike and Dyke: A Tale of the Rise of the Dutch Republic
1890

Kindle, Epub, HTML

Librivox

Beric the Briton: A Story of the Roman Invasion
1893

Kindle, Epub, HTML

Librivox

Saint Bartholomew's Eve: A Tale of the Huguenot Wars
1894

Kindle, Epub, HTML

Librivox

In Freedom's Cause: A Story of Wallace and Bruce
1885
In the Reign of Terror: The Adventures of a Westminster Boy
1888
The Dragon and the Raven, or The Days of King Alfred
1886
Wulf The Saxon: A Story of the Norman Conquest
1895
Under Drake's Flag: A Tale of the Spanish Main
1883
Out on the Pampas
1868
The Cat of Bubastes: A Tale of Ancient Egypt
1889
The Lion of St. Mark: A Story of Venice in the Fourteenth Century
1889
With Lee in Virginia, A Story of the American Civil War
1890
A Search for a Secret
1867
The March to Magdala
1868
All But Lost, Volumes I, II and III
1869
The Young Franc-Tireurs and Their Adventure in the Franco-Prussian War
1872
The March to Coomassie
1874
The Young Buglers, A Tale of the Peninsular War
1880
The Cornet of Horse: A Tale of Marlborough's Wars 1881
In Times of Peril: A Tale of India 1881
Facing Death, The Hero of the Vaughan Pit – A Tale of the Coal Mines 1882
Winning His Spurs: A Tale of the Crusades (aka Boy Knight) 1882
Friends Though Divided: A Tale of the Civil War 1883
Jack Archer: A Tale of the Crimea 1883
By Sheer Pluck: A Tale of the Ashanti War 1884
With Clive in India: The Beginnings of an Empire 1884
St. George For England: A Tale of Cressy and Poitiers 1885
True to the Old Flag: A Tale of the American War of Independence 1885
The Young Colonists: A Tale of the Zulu and Boer Wars 1885
For Name and Fame: To Cabul with Roberts 1886
The Lion of the North: A Tale of Gustavus Adolphus and the Wars of Religion 1886
Through the Fray: A Tale of the Luddite Riots 1886
Yarns on the Beach: A Bundle of Tales 1886
The Bravest of the Brave, or, With Peterborough in Spain 1887
A Final Reckoning: A Tale of Bush Life in Australia 1887
The Sovereign Reader: Scenes from the Life and Reign of Queen Victoria 1887
The Young Carthaginian, A Story of the Time of Hannibal 1887
With Wolfe in Canada: The Winning of a Continent 1887
Bonnie Prince Charlie: A Tale of Fontenoy and Culloden 1888
For the Temple: A Tale of the Fall of Jerusalem 1888
Gabriel Allen M.P. 1888
Orange and Green: A Tale of the Boyne and Limerick 1888
Sturdy and Strong: How George Andrews Made His Way 1888
Captain Bayley's Heir: A Tale of the Gold Fields of California 1889
The Curse of Carne's Hold: A Tale of Adventure, Volumes I and II 1889
The Plague Ship (1889)
Tales of Daring and Danger, Five Short Stories 1890
One of the 28th: A Tale of Waterloo 1890
The Boy Knight: A Tale of the Crusades 1891
By England's Aid: The Freeing of the Netherlands, 1585–1604 1891
By Right of Conquest: With Cortez in Mexico 1891
Chapter of Adventures: Through the Bombardment of Alexandria aka The Young Midshipman (USA) 1891
A Hidden Foe, Volumes I and II 1891
Maori and Settler: A Tale of the New Zealand War 1891
Those Other Animals (1891)
The Dash For Khartoum: A Tale of the Nile Expedition 1892
Held Fast for England: A Tale of the Siege of Gibraltar (1779–83) 1892
The Ranche in the Valley (1892)
Redskin and Cowboy: A Tale of the Western Plains 1892
Condemned as a Nihilist: A Story of Escape from Siberia 1893
In Greek Waters: A Story of the Grecian War of Independence (1821–1827) 1893
Rujub, the Juggler, Volumes I, II and III 1893
Dorothy's Double: The Story of a Great Deception, Volumes I, II and III 1894
A Jacobite Exile: Being the Adventures of a Young Englishman in the Service of Charles XII of Sweden 1894
Through the Sikh War: A Tale of the Conquest of the Punjab 1894
In the Heart of the Rockies: A Story of Adventure in Colorado 1895
When London Burned: A Story of Restoration Times and the Great Fire 1895
Woman of the Commune: A Tale of Two Sieges of Paris (aka Cuthbert Hartington, A Girl of the Commune,Two Sieges and Two Sieges of Paris 1895
Wulf The Saxon: A Story of the Norman Conquest 1895
A Knight of the White Cross: A Tale of the Siege of Rhodes 1896
Through Russian Snows: A Story of Napoleon's Retreat from Moscow 1896
The Tiger of Mysore: A Story of the War with Tippoo Saib 1896
At Agincourt: A Tale of the White Hoods of Paris 1897
On the Irrawaddy: A Story of the First Burmese War 1897
The Queen's Cup, A Novel, Volumes I, II and III 1897
With Cochrane the Dauntless: A Tale of the Exploits of Lord Cochrane 1897
Colonel Thorndyke's Secret (aka The Brahmin's Treasure (USA)) 1898
A March on London: Being a Story of Wat Tyler's Insurrection 1898
With Frederick the Great: A Tale of the Seven Years War 1898
With Moore at Corunna: A Tale of the Peninsular War 1898
On the Spanish Main: A Tale of Cuba and the Buccaneers (1899)
At Aboukir and Acre: A Story of Napoleon's Invasion of Egypt 1899
Both Sides the Border: A Tale of Hotspur and Glendower 1899
The Golden Cañon and The Stone Chest, or The Secret of Cedar Island, (The Stone Chest is a filler title, not by Henty) (2-in-1 book) 1899
The Lost Heir 1899
Under Wellington's Command: A Tale of the Peninsular War 1899
In the Hands of the Cave Dwellers 1900
No Surrender! A Tale of the Rising in La Vendée 1900
A Roving Commission, or, Through the Black Insurrection at Hayti 1900
Won by the Sword: A Story of the Thirty Years War 1900
In the Irish Brigade: A Tale of War in Flanders and Spain 1901
John Hawke's Fortune: A Story of Monmouth's Rebellion 1901
Out With Garibaldi: A Story of the Liberation of Italy 1901
Queen Victoria: Scenes from her Life and Reign 1901
With Buller in Natal: A Born Leader 1901
At the Point of the Bayonet: A Tale of the Mahratta War 1902
To Herat and Cabul, A Story of the First Afghan War 1902
With Roberts to Pretoria: A Tale of the South African War 1902
The Treasure of the Incas: A Tale of Adventure in Peru 1903
With Kitchener in the Soudan, A Story of Atbara and Omdurman 1903
With the British Legion: A Story of the Carlist Wars 1903
Through Three Campaigns: A Story of Chitral, Tirah, and Ashantee 1904
With the Allies to Pekin: A Story of the Relief of the Legations 1904
Gallant Deeds, Five Short Stories 1905
By Conduct and Courage: A Story of Nelson's Days 1905
In the Hands of the Malays 1905
Among the Bushrangers from A Final Reckoning 1906
Indian Raid, An from Redskin and Cowboy 1906
Cast Ashore from With Clive in India 1906
Charlie Marryat from With Clive in India 1906
Cornet Walter from Orange and Green 1906
A Highland Chief from In Freedom's Cause 1906
The Two Prisoners from A Soldier's Daughter 1906
The Young Captain from With Clive in India 1906