I speak boldly, and faithfully, and with authority. . . . I know what I say, I understand my mission and business. God Almighty is my shield, and what can man do if God is my friend, I shall not be sacrificed until my time comes, then I shall be offered freely . . . I thank God for preserving me from my enemies; I have no enemies but for the Truth's sake. I have no desire but to do all men good; I feel to pray for all men . . .

Joseph Smith, History, 1838–1856, volume D-1, p. 5-6 (addenda), The Joseph Smith Papers.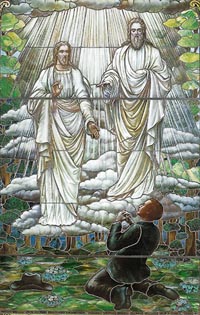 Joseph Smith was chosen, and foreknown by ancient prophets, as the one to open this final dispensation and restore the gospel truths that had been lost. Common to our modern culture, many today seek to "humanize" him, to bring out his supposed faults and exaggerate assumed mistakes. They suggest that he was a "common man" and that God uses mediocre, flawed people to do great things. In contrast, the Law of the Lord stands – to be great, you must be good – power comes from purity.
One mission of the Joseph Smith Foundation is to uphold the character of Joseph Smith and his family. We have compiled a Frequently Asked Questions on Joseph Smith, answering many myths and misunderstandings with original sources, prophetic statements and scripture.
Additionally, the Joseph Smith Foundation has an audio books section. Hear for yourself the power in Joseph Smith's own words as he writes a letter detailing the mission and 13 specific beliefs of the Church, later known as the Articles of Faith. Listen to an audio version of the Wentworth Letter.