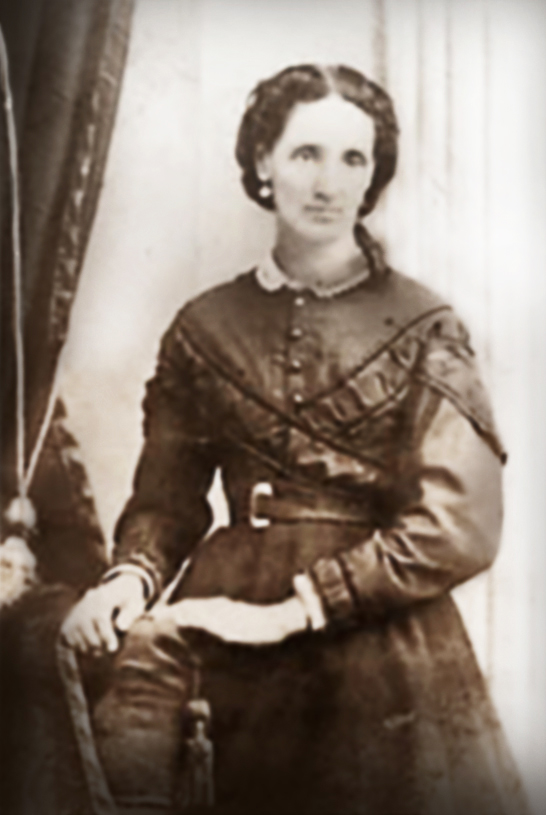 Agnes Moulton Coolbrith was a plural wife of the Prophet Joseph Smith.
Return to Plural Wives of Joseph Smith
Born: July 9, 1808, Scarborough, Cumberland Co., Maine
Died: December 26, 1876, Oakland, Alameda Co., California
Married (Don Carlos Smith): July 30, 1835, Kirtland
Married (Joseph Smith): January 6, 1842
Married (William Pickett): 1846
Full Name: Agnes Moulton Coolbrith Smith
Accounts
Brigham Young
"I was taken in to the lodge J Smith was [sealed to] Agness." 1
Lucy Walker
Lucy Walker Kimball to Joseph F. Smith: "My very dear Nephew" (Excerpt)
Note that the events below transpired only a few months before the death of Agnes Moulton Coolbrith.
Santa Rosa, February 24, 1884

I have just returned from Tulare County where I have been to make my farewell visit to my Brother before returning to my mountain home and Friends.

on my return I had a very pleasant visit at Oakland with Ina [daughter of Agnes Coolbrith], who received me with much tenderness and affection […].

From her, I learned many things I was glad to know, one fact was, that her mother bore testimony to the "Boys" [Alexander, David and Joseph Smith III, who were members of the RLDS Church and visited in 1876] in regard to the faith and teachings of their Father and told them that what they had seen, and heard in Salt Lake was Truth, that those women were their Father's wives, and it was useless to promulgate falsehood to the world, and advised them to desist. They pretended not to believe, but she could plainly see they were stung with the truth of her testimony.

David seemed struck dumb, astounded at the living testimony of so many – What could their object be,! Alexander said he would not take any bodys Word – not even Aunt Agness. Jos. would not talk on the subject. After they left [they] sent \Ina/ what purported to be the 'History of their Father with their Mother's dying testimony—and desired her to place them in the Library—She wrote them She could not with the knowledge She had—that they were false. […]
Temple Lot Transcript (excerpt)
May Ann West
Below is an excerpt from Mary Ann West and her testimony in the Temple Lot Case. Mary Ann West lived with Agnes Moulton Coolbrith in Nauvoo after Don Carlos' death. 
676   Q – State who xxx Agnes Smith was? A – I think I have stated that. She was the wife of Don Carlos Smith
By Mr Hall.-
677   Q – Whose wife was she at the time that you lived with her? A – She was Joseph Smith's wife.
678   Q – Well how do you know that?
Counsel for the plaintiffs objects to the question asked the witness on the ground and for the reason that it is incompetent, and immaterial, and not proper re-direct examination.
679   Q – Now Mrs West you may answer the question? A – She told me herself she was. Her husband she said wished her to marry Joseph and she did so.
Counsel for the plaintiffs objects to the answer xxxxx the witness on the ground that it is hearsay and incompetent, and moves the court to exclude it from the record for that reason.
680   Q – That is all."
Re-cross examination by Mr P.P. Kelley,-
681   Did you say that Agnes Smith was the widow of Don Carlos Smith? A – Yes sir
682   Q – Did you also say that she was the wife of Joseph Smith? A – Yes sir she was after Don Carlos died.
683   Q – How do you know she was? A – She told me so herself.
684   Q – Did Joseph ever stay with her there A – I don't know.
686   Q – Well you stayed there, and you ought to know something about it if he did? A – Yes sir, I was there but I don't know about that
687   Q – Did you ever know of his staying with her there? A – All that I know about it is what I told you. She told me that she was married to Joseph Smith, and she said it was the wish of her husband, Don Carlos that she would marry him.
688   Q – Do you know when her husband Don Carlos Smith died? A – No sir, but I think it was in '41.
689   Q – Were you acquainted with Don Carlos Smith? A – No sir, he died xxx before I came here to Nauvoo.
690   Q – Then you never saw him? A – No sir not to say that I saw him. I saw his skeleton, but I never saw him when he was in life.
691   Q – You did not see even that for years and years after he died did you? A – After Joseph was murdered in 1844,-they took his body up to remove it, and I think that was in 1844.
692   Q – And he had been dead then for ten or twelve years hadn't he? A – No sir.
693   Q – Now do you know he had not been dead that long. H died after,-I mean before you came to Nauvoo, and how do you know how long he had been dead? A – Well ten or twelve years before that they were not at Nauvoo, and I was told that he died I think it was in '41.
(Text below has "x" printed over the follow text: Well what did Agnes Smith tell you about it? A-She did not tell me anything more than I have told you.)
xxxxxxxxxxxxxxxxxxxxxxxxxxxxxxxxxxxxxxxxxxxxxxxxxxxxxxxxxxxxxxxxxxxxxxx
xxxxxxxxxxxxxxxxxxxxxxxxxxxxxxxxxxxxx.
694   Q – He died while you were in England? A – Yes sir. I think so. I was not at Nauvoo any way, and I guess I was in England.
695   Q – Well what did Agnes Smith tell you about it? A – She did not tell me anything more than I have told you
696   Q – Where is Agnes Smith now? A – In her grave.
697   Q – Was she in polygamy too? A – She was.
698   Q – How do you know she was? A – Well that is what she told me.
699   Q – Who did she marry? A – Joseph Smith.
700   Q – Did she ever marry any body else? A – Not that I know of.
701   Q – Did she come west with the church? A – Yes sir she did,-I was mistaken for she married William Pickett and came west with the church after we were driven from Nauvoo.
702   Q – Did he come too? A – Who?
703   Q – Did William Pickett come on to Salt Lake also? A – Yes sir, but I think he went on to California, and did not stop here.
704   Q – I guess that is all.
Other References to Agness Moulton Coolbrith Smith
In a letter to Vienna Jaques on the 4th of September, 1833, Joseph Smith mentioned that Agness was living with his father and sister-in-law (Mary Bailey, wife of Samuel H. Smith) at the time.
". . . this place to work at his trade and Siste[r] Elizab eth lives with me at present Agnes [Coolbrith] & Mary [Bailey] Lives with father Smith—"2
In 1838 during the move from Kirtland to Far West, Don Carlos also mentions Agness (who was his wife at the time) as being, "very feeble."3
Journal, March–September 1838, Joseph Smith Papers.