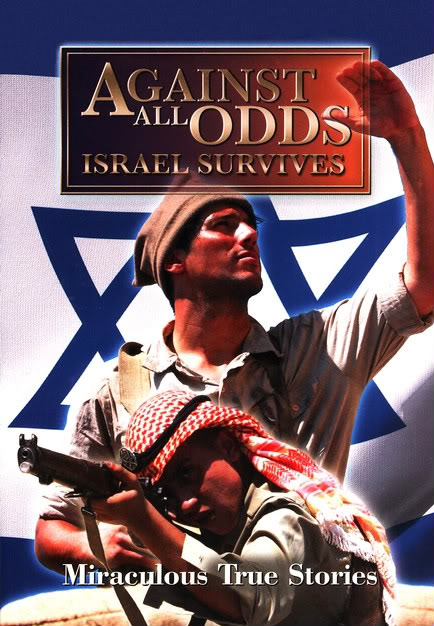 How does Israel survive against all odds? Modern-day Israel is truly a divine wonder of the current age. How has it triumphed through four major wars and survived relentless terrorist attacks? Meet the actual people who lived through what can only be described as miracles of Biblical proportions, and share their remarkable stories.
Series Trailer (12 Episodes)
Episode 1: The Assignment
Journalist Michael Greenspan (CNN) meets with Yom Kippur War tank commander David Yaniv, who recalls how he and his men were miraculously saved when a mysterious wind exposed thousands of explosives in the minefield in which they were stranded.
Episode 2: Miracle at Michmash
During WW I, British Major Vivian Gilbert is sent to rout a Turkish garrison in Jericho. Having read the Biblical account of Saul and Jonathan, who were camped in the same place, Gilbert follows their unorthodox battle plan to an improbable victory.
Episode 3: Shula – The Girl Who Became a Spy
Michael Greenspan meets 85-year-old Shula Cohen who became a spy for Israel in 1948 in Beirut, where her access to Lebanese and Syrian social circles gave her unprecedented access to vital intelligence information.
Episode 4: The Miracle of Survival – Hitler and the Holocaust
Michael Greenspan visits the Yad Vashem Holocaust Museum outside Jerusalem and reflects on the history of one of the most devastating historical events. Nobel Prize-winner Elie Wiesel is featured.
Episode 5: A Boy Named Ezra
This episode dramatizes the story of Ezra Yakhin who joined freedom fighters resisting the British occupation of Palestine, and it also chronicles the obstacles that stood in the way of the establishment of a Jewish homeland in the years before 1948.
Episode 6: The Miracle of '48
In this stirring episode, Michael Greenspan interviews freedom fighters and war veterans who recount Israel's triumph against all odds in its' war for independence from the British and the Arab enemies determined to destroy the new homeland.
Episode 7: 1967
Israel's stunning victory in the Six-Day War was certainly against all odds. This episode contains dramatizations of stories associated with the return of Jerusalem to Jewish hands for the first time since its fall to the Romans in 70 A.D.
Episode 8: A Warrior Named Kahalani
The Yom Kippur War of 1973 was the ultimate David and Goliath story. Avigdor Kahalani, one of Israel's most decorated and beloved war heroes, shares his own incredible stories of survival and miraculous victory.
Episode 9: The People of the Book Come Home
Israeli citizens share their knowledge about what it means to live in the land of their forefathers. Rabbi Israel Lau describes the sense of coming home with his story of survival of the Holocaust, and Russian Jews reflect on their escape from Communism.
Episode 10: A Place of Miracles?
From ordinary Israeli citizens to Israel Lau, the chief rabbi of Tel Aviv, Michael Greenspan continues his investigation into whether Israel's survival is the result of human courage, foresight and wisdom, or the work of God.
Episode 11: Myths or Miracles?
Strange beings wielding flaming swords foil marauding Arabs in their attempt to destroy a Jewish community. Storks suddenly appear to devour locusts plaguing a village. Michael Greenspan talks to those connected with these and other incredible events.
Episode 12 (Clip): Rescue at Entebbe
Scenes from "Operation Thunderbolt" dramatize the 1976 crisis when terrorists seized Air France Flight 139. Michael Greenspan interviews Sarah Davidson who piloted the Hercules plane that brought Israeli soldiers to Entebbe airport for a rescue mission.
Episode 13 (Full Episode): In Search of a Miracle
Michael Greenspan reflects on the incredible people he has met, and their stories that he has heard. Before returning to the U.S., he visits a synagogue for the first time since he was a boy, and draws his final conclusion about miracles in Israel.